Lechwe Trust is a charitable trust for the visual arts in Zambia, formed in 1986 to provide scholarships to promising artists; to purchase or commission works of art for public display; to support organisations working for the promotion of the visual arts and preservation of the nation's cultural heritage; to support and encourage art education and to promote exhibitions within Africa and abroad.
Gallery Opening Times
Tuesdays – Saturdays 10:00-18:00 hrs
Sundays 12:00-18:00 hrs.
+260 977 421052
+260 211 257256
4015 Lagos Road,
Rhodes Park Lusaka.
Present Exhibition ~ Open until 17th March 2023
The exhibition features her most recent artworks which include sculpture, prints, drawings, paintings and – in true Agness spirit – an installation of Mbusa-inspired works in a 'secret' room in the gallery.
Patrick Mumba ~ Keepers of the Tribe
Edwin Kalusa ~ Togetherness
Andrew Chifita ~ Collections Custodian
Andrew Chifita is a diploma holder in Computer Studies from Evelyn Hone College of Applied Arts and Commerce in Lusaka. He also holds Technician Certificates in electronics and electrical engineering. Though trained as an information technology specialist he has a great passion for art and interacts with artists in Zambia and abroad.
Andrew has more than 15 years' experience in visual art administration and has worked as Gallery Administrator at Twaya Art Gallery, Intercontinental Hotel Lusaka from 2003 to 2013. He has also worked for Electoral Commission of Zambia (ECZ) as District Technical Support Officer in Mpika for 3 years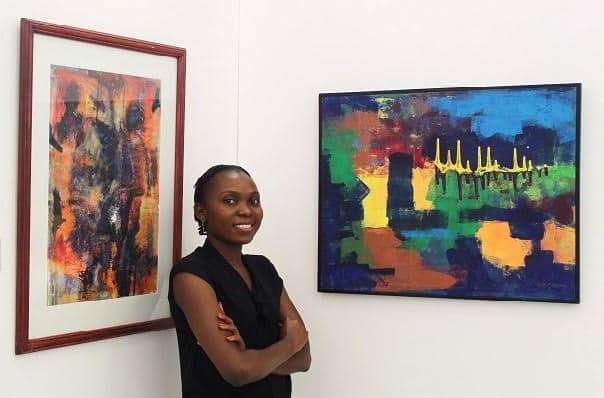 Mary Zulu ~ Gallery Administrative Assistant
Mary, holds a Bachelor of Education degree in Zambia cultures and ceremonies, with English, from the University of Zambia, and a trade certificate in General Hospitality.
Mary did her internship at the National Arts Council of Zambia during her study period, which exposed her to various art forms and cultural practices. In addition to being a registered secondary school teacher of English, she interacts more with visual arts and her role includes seeing more women representation in the collection/gallery.
Some of the organisations supported over the years include: Mpapa Gallery, Zintu Arts and Crafts Foundation, Evelyn Hone College of Applied Arts and Commerce, Zambia National Visual Arts Council, Choma Museum, Lusaka National Museum, Copperbelt Museum in Ndola, MotoMoto Museum in Mbala, Mbile and Insaka International Artists' Workshops.
Lechwe Trust has awarded short-term grants for artists to attend workshops and residencies within Zambia and abroad; and has also supported upcoming artists by supplying art materials and assisting them with framing and costs for exhibitions.
Lechwe Trust has sponsored four talented artists for Fine Art degrees – three to the UK and one to Namibia. Two of them subsequently obtained their Masters degrees.  Godfrey Setti, Patrick Mumba, William Miko, and Elisha Zulu all returned home to make major contributions to the development of the visual arts, which is very rewarding for Lechwe Trust and for Zambia.
The Aims and Objectives of Lechwe Trust are:
to promote and encourage the visual arts in Zambia and provide assistance and encouragement to Zambian artists to further their artistic education by:
promoting artistic knowledge and an arts training programme in Zambia
providing scholarships in Zambia and abroad for talented Zambian artists
purchasing or commissioning works of art to be displayed in public places
supporting and encouraging individuals/groups to work toward the promotion of the visual arts in Zambia and the preservation and display of the material culture of Zambia; "the visual arts" include painting, drawing, sculpture, ceramics, contemporary and traditional crafts
promoting and financing exhibitions in Zambia and the sub-region and abroad